We wanted our supporters to have the opportunity to get to know one of our largest corporate sponsors, Planet Ford.  Our very own Megan Bruney, Executive Assistant and Marketing Coordinator, sat down with Mr. John Centner who is the General Manager of Planet Ford's 59 location and here is what we learned.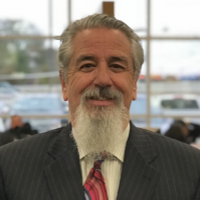 Question:        How long have you been with Planet Ford?
John:                I have been with the Randall Reed organization for over 10 years.  Last year I was asked to take on the role of GM at Planet Ford in Humble.
Question:        What is your position/role at Planet Ford and what do you do daily?
John:                I am the General Manager at the Planet Ford location in Humble. On a daily basis I work together with the dealership management team to plan, motivate and coordinate the dealership's daily operations while instilling Randall Reed's philosophy of superior customer satisfaction and leading the support for our local community, first responders, military, educators and children.
Question:        What are some guiding principles you used to make your decision to get involved with Boots For Troops?
John:                Supporting our active and retired military members is a passion not only for the Randall Reed organization but for myself personally.  Planet Ford in Humble found a kindred spirit with Boots For Troops commitment to standing behind our armed forces and their unique way of helping those that serve.
Question:        What is your affiliation with the military?
John:                My family has spent generations serving in various branches of the military, I myself am a US Army Veteran that proudly served from 1976-1979
Question:        What is your favorite thing about Boots For Troops organization?
John:                The Boots For Troops founder Jimmy and his wife Lindsey are driving force. The organization is young, but their tenacity and determination has really paid off to jump start this organization to fulfill the request and needs of so many who are serving. How can you not get behind such a driving force?
Question:        How likely would you recommend donating to this organization to a friend or colleague?
John:                Extremely likely
Question:        What is your contribution to the organization as a whole?
John:                Not only are our 2 Planet Ford dealerships monetary sponsors, the Planet Ford in Humble dealership has embarked on a partnership with another local vendor to bring a huge surprise to raise awareness and funds for Boot For Troops and since this is a surprise, we have to keep it under wraps until later this year.
Question:        What are your core beliefs and how does our mission reflect those beliefs?
John:                Randall Reed, myself and Planet Ford in Humble share the very simple core beliefs of managing from the ground up with hands on dedication, not only knowing the importance of great customer satisfaction but executing on it and to lead the charge of giving back.  We know how crucial it is to support and help others to preserve and strengthen our local communities, 1st responders and military.
Boots For Troops hands on approach to find the exact needs of a specific service man or woman, then executing on that knowledge to uplift the morale and mental well-being of our armed forces is a true reflection of what we believe.
Question:        What would you like to see this organization do in the community that we don't already do?
John:                As with any organization, it's a tough challenge to not only build awareness but to keep it.  I feel Boots For Troops is rising to meet those challenges head on.
Question:        What difference would you like to make on the organization?
John: My hope is that the support of the Randall Reed Planet Ford dealerships will be very positive, enabling the Boots For Troops organization to gain more awareness which in turn allowing them to double even triple their support to our service men and women.
Questions by: Megan Bruney